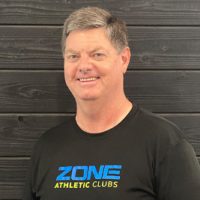 Jeff Columbia
Master Trainer
FortCollins
Trainer Bio
Master Trainer – Fort Collins
Education & Certifications
NASM PES
CPR/AED Certified
Bio 
I get people moving again. I help them reduce or eliminate pain from chronic conditions, previous injuries or surgery. Did you know that chronic pain is the number one cause of long-term disability in America? In fact, 100 million Americans suffer from chronic pain!
By using mindful natural movement and restoring your mobility, stability, strength and body awareness we tap into your body's own natural healing abilities. As your body heals you become free to return to the healthy and active lifestyle that you desire. You're free from the pain that sapped so much of your energy. You are free to do what you want to do when you want to do it.
I've been privileged to help people from all walks of life who are experiencing chronic or acute pain. These include those suffering from recurring back or joint pain, arthritis, joint or back injuries, and following rehabilitation from surgery. (Back, neck, shoulder, hip and knee.)
It's my mission to help get people moving again. To start enjoying life again!  Let's get you moving again, pain free!
Jeff Columbia, MA Pain Free Movement Specialist