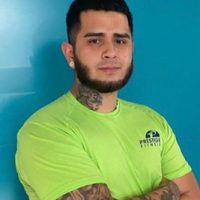 Rick Soto
Personal Trainer
Trainer Bio
 Education & certifications:
PTA Global
CPR/AED Certified
Interests & Hobbies:
Outdoors activities
Hiking
Spending time with family
Working out
Art work
Listening to music
 Bio:
My motivation is to push people to the edge until they get to their goals. Working and eating healthy is not a choice it's a lifestyle.
Come see me today so we can start your fitness journey and have someone always motivating you to reach your goals.