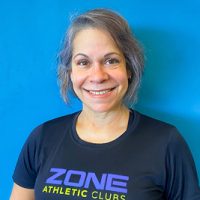 Nelly Salazar
Certified Personal Trainer
Lakewood
Trainer Bio
Certified Personal Trainer – Lakewood
Education & Certifications
Certified Functional Strength Coach (CFSC 1)
TRX – Basic and Suspension Training Instructor
Senior Fitness Specialist
Certified Group Fitness Instructor
Aqua Fitness Trainer/Presenter
Interests & Hobbies
I have been a Fitness enthusiast since my teen years, and aware of the importance of growing and aging in a healthy way, has been my inspiration to constantly prepare myself to be able to lead others to a healthier, happier, and stronger life.
I am a perfectly bilingual English/Spanish coach who believes in taking control of our own wellbeing by learning to train our bodies, inside and out.
I can help anybody, at any age and/or fitness level to reach their fitness goals, whatever those may be!
#mylifeexperience #healthier #happier #stronger