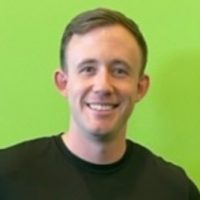 Nathan Deleary
Certified Personal Trainer
Southlands
Trainer Bio
Certified Personal Trainer – Southlands
Education & Certifications
University of Denver: Bachelors in Psychology
CSCS Certified Strength and Conditioning Specialist
Interests & Hobbies
Video Games
Reading
Personal Development
Meditation
I was born in Michigan but moved around all my life between Colorado, Hawaii and Virginia.
My fitness interest began in high school where I took classes around weight lifting and played soccer.
I served six years in the U.S Navy, where I went on two deployments all around the world. While in the Navy, I really became passionate about strength and building muscle. As my Navy career came to a close, I began a personal development journey that led to a profound interest in sport psychology.
Now with having a Bachelors in Psychology I plan to work in fitness to help other with their minds and bodies. I have aspirations of becoming the lead sports psychologist with FC Barcelona.