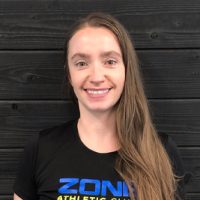 Hilary Brown
Certified Personal Trainer
FortCollins
Trainer Bio
Certified Personal Trainer – Fort Collins
Education & Certifications
Bio
I have never played sports, and I was not physically active whatsoever until losing 100 lbs. at the age of 25. Clinically obese, pre-diabetic, and sick of hating myself, I knew I had no one to blame but me for the state my health was in, so I bought a cheap elliptical from a Facebook rummage page and never looked back!
Fitness is for everybody. The benefits of exercise reach FAR beyond the gym; they permeate every aspect of your life. It is my passion to help people find the path to health and wellness that works for them and fits into their lifestyle.
I want to show clients how crucial it is to make yourself a priority because your health is an investment, not an expense.