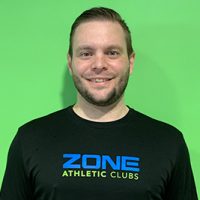 Eric Anderson
Certified Personal Trainer/Fitness Manager
Arvada
Trainer Bio
Certified Personal Trainer/Fitness Manager – Denver
 Education & Certifications
Bachelor's Degree from the State University of New York at Oswego
Certified as a Personal Trainer through American Council on Exercise
Bio
Specialties include Post-Orthopedic Exercise and Functional Training
Expertise in Strength and Conditioning, Weight Loss, Metabolic and Fat Loss Training, Kettlebells and HIIT.
My main focus as a trainer is to create a complete, individualized program based on each of my client's specific needs and goals that will progress and change over time. I provide motivation, accountability, and consistency for each person I work with, as well as the knowledge needed to get them to their goals.
Interests & Hobbies
I enjoy sports and doing anything outdoors! Hiking, trail running, snowboarding, rock climbing and surfing (when I'm at home on the East Coast). Favorite teams are the New York Mets and Giants.