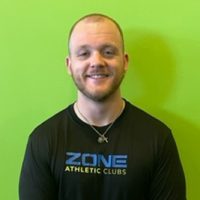 David Anderson
Certified Personal Trainer
Southlands
Trainer Bio
Certified Personal Trainer – Southlands
Education & Certifications
NASM Certified Personal Trainer
NASM Performance Enhancement Specialist
CPR/AED
Interests & Hobbies
Hunting
Fly Fishing
Weight Lifting
Boxing/UFC
"My name is David Christopher Anderson, but you can call me Coach Dave.
I attended Legend high school where I played football and lacrosse. After I graduated in 2016, I began to explore fitness and wanted to become a coach like my father and all the other great men in my life. I started coaching at a local gym in Centennial called Strength in Christ in 2018. I took away a lot of knowledge and would not be where I am today without that opportunity. After that I went and got Certified by the National Academy of Sports Medicine in Personal Training and continued education. While doing that I went from 295lbs to 220lbs and took what I learned to Six Zero Strength Football Academy as the
Head Strength Coach. There I helped athletes of all ages achieve mental and physical success in and out of the weight room for their specific sports. At this point I can honestly say I'm living the dream of having the opportunity to share what I have learned and what has helped me so much personally along the way. I am also currently enjoying coaching the 5th grade Parker Hawks football team.
#BeSavageNotAverage"