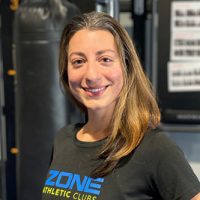 Azita Arabpour
Certified Personal Trainer
CherryCreek
Trainer Bio
Certified Personal Trainer – Denver
Education & Certifications
ACE Certified Personal Trainer
Certified Flexologist
Specialties:
Strength and Conditioning
Functional Mobility and Flexibility
Body Sculpting
Yoga
Post-Rehabilitative Yoga
Bio
When it comes to overall health & wellness, I find no greater joy. I've been in the fitness industry for over 10 years. My passion for fitness stems from my own personal journey to evolve into my best shape mentally & physically. By providing a variety of services including 1-on-1 personal training, private & group therapeutic-focused yoga, I strive to share my passion in fitness & support my clients to transform their bodies & lives.
My main focus as a trainer is to provide the knowledge to help guide others towards a happy life.
"A smooth sea never made a skilled sailor."